Free, Automated Scheduling of Instagram Videos - Part 5 - Triggering
Trello Card + Trello Label + Hootsuite + Zapier = Triggered Zapier Zap
Lets take stock of where we're currently at... We've filmed a bunch of videos, thrown them through some automated processing for watermarking, trimming, colour grading and resizing. The video has been uploaded to Google Drive and a URL generated to point directly at it.
We have then written our video text content and filled in the relevant details within a Trello card with special custom fields.
Once we have filled in all of the card details we will then add the 'SCHEDULED' label to the trello card which will trigger the next steps.
Zapier
That next step is zapier.com.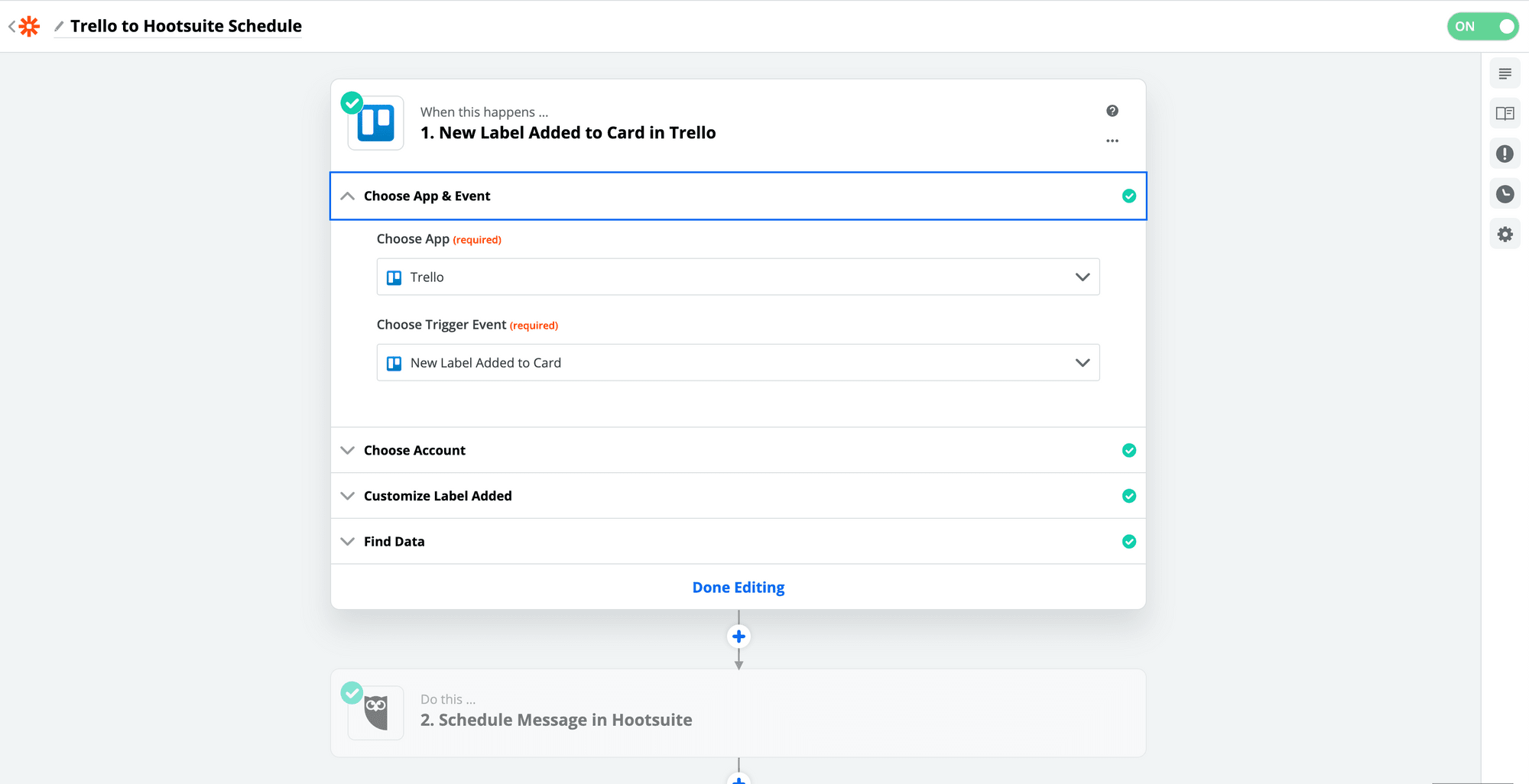 The beauty of zapier.com is it allows you to connect different services together through their APIs. It's usually limited in terms of functionality of each services' full API, but it has most common things. It's extremely useful to quickly setup more complex workflows.
The 'Zap' (actions we want to take) is as follows:
Within Trello, once a New Label is Added to a Card, we want to take all the details of that particular card and use them to Schedule a Message within a new service called Hootsuite.
Hootsuite
Before we create the Zap, we'll need to create a new free account on Hootsuite. The service is a central dashboard for posting and scheduling media onto different channels. From YouTube, Pinterest and Facebook to Twitter, Google My Business and the main one we're interested in... Instagram.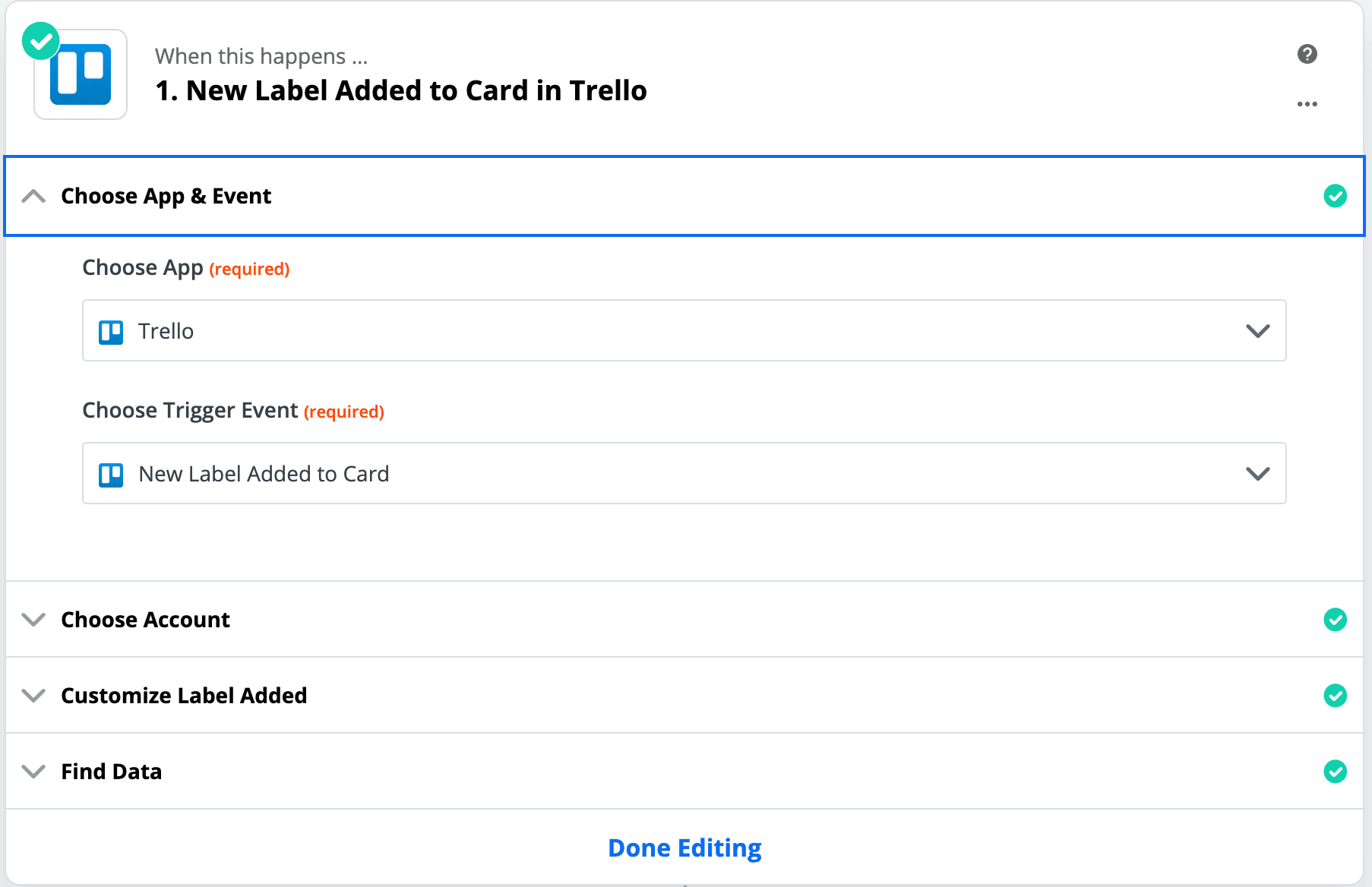 You'll need to connect your different social media accounts to Hootsuite and authorise them, but it's a pretty painless process.
Steps to set up Zapier - Trello triggers
Back to zapier and start the process of creating a new Zap.
Pick Trello first as the App to use, authorise zapier to use the app, and start by choosing the trigger 'New Label Added to Card'.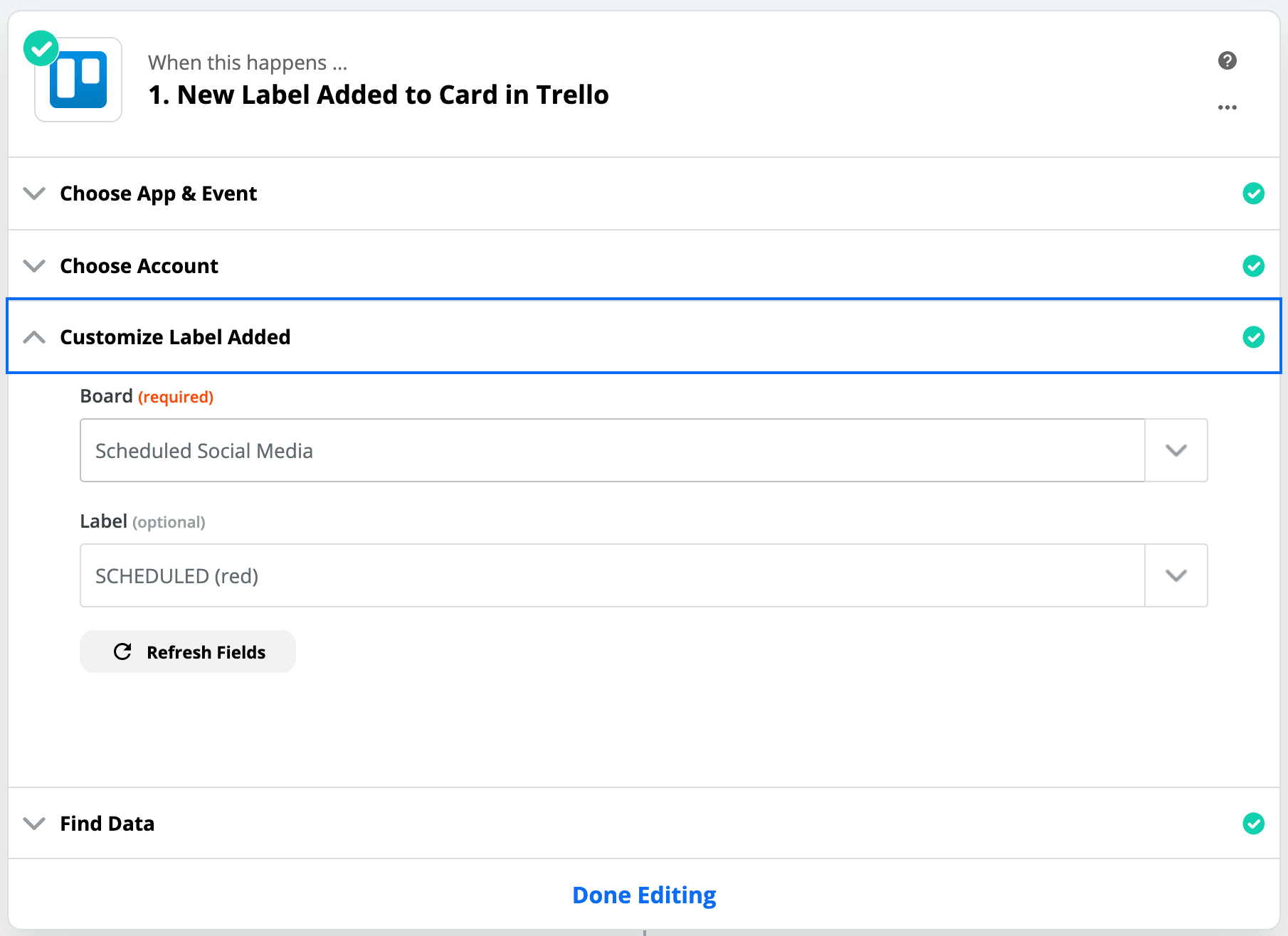 Pick the particular trello account you want to use, you'll probably only have one, so pick that one.
Next, we need to specify the Trello board we're using and the label that will trigger the event. Remember, it's the 'SCHEDULED' one.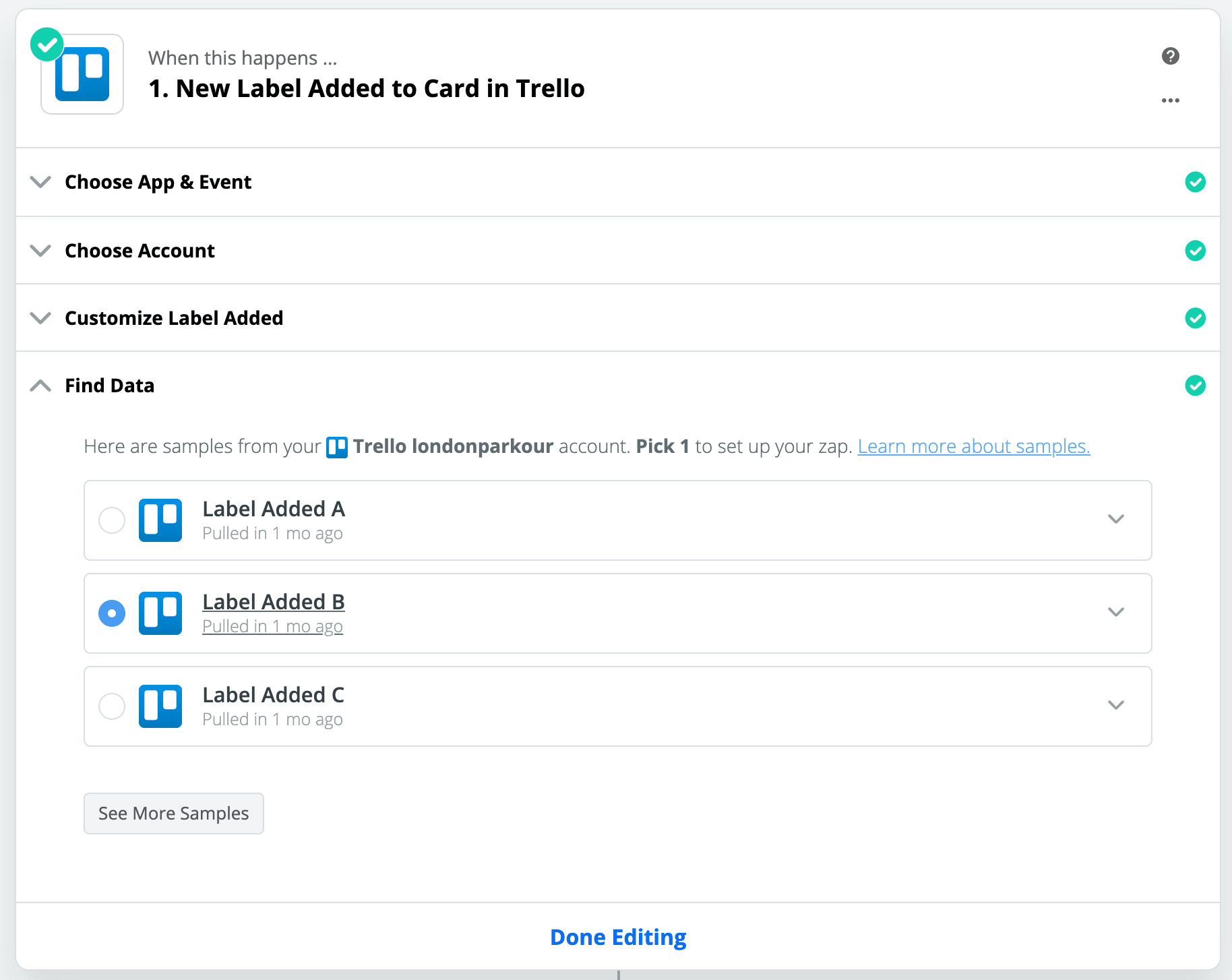 Once thats done, continue and try to find some real data. You may need to head back over to trello and make sure you've got at least one card with some dummy data in each field you're going to use.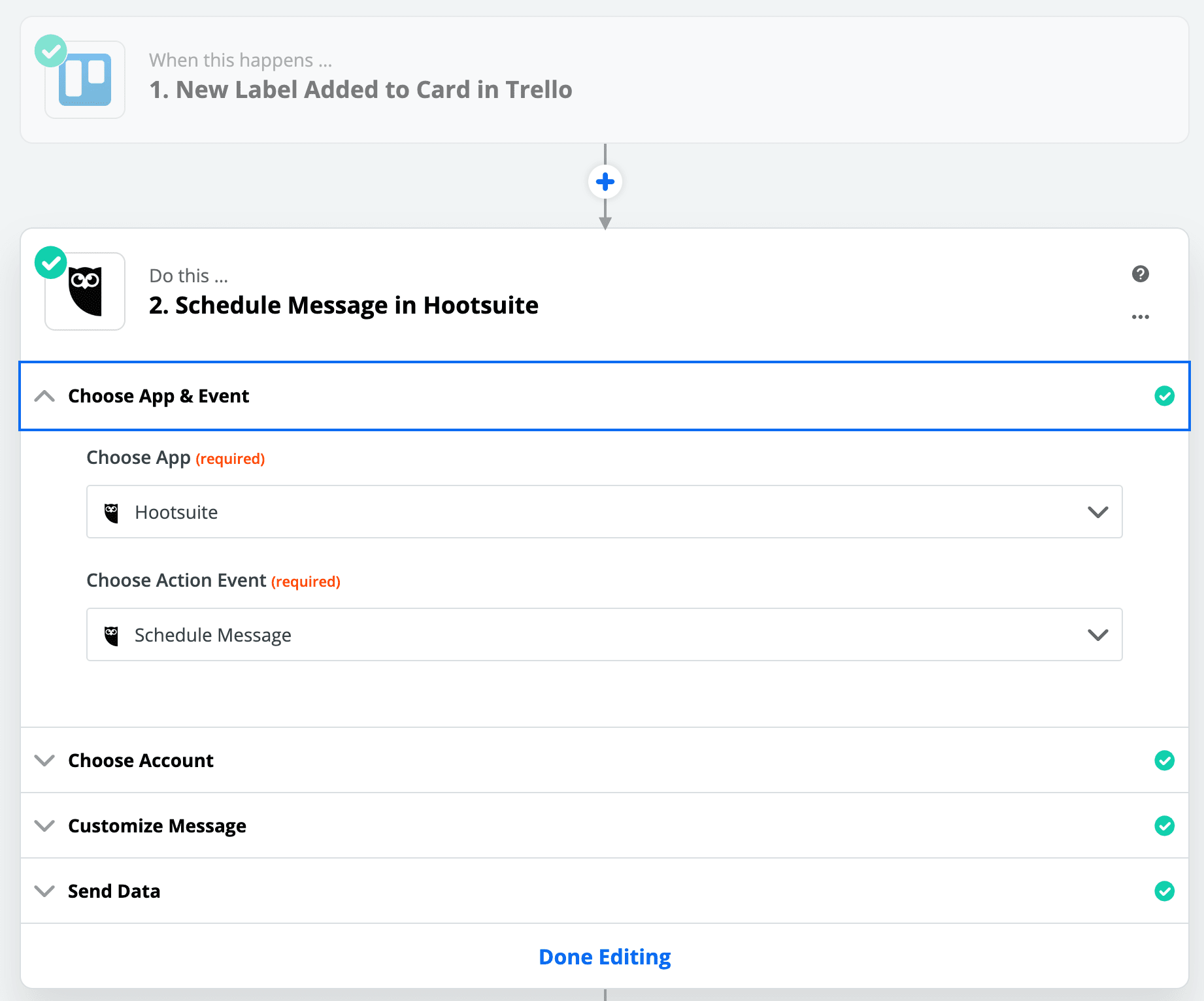 This card data will be pulled into to Zapier so we can then map each field to Hootsuite correctly.
Steps to set up Zapier - Hootsuite
Right, now we add Hootsuite. Pick that app, authorise and choose the action we want to take, once this trigger fires... which is 'Schedule Message'.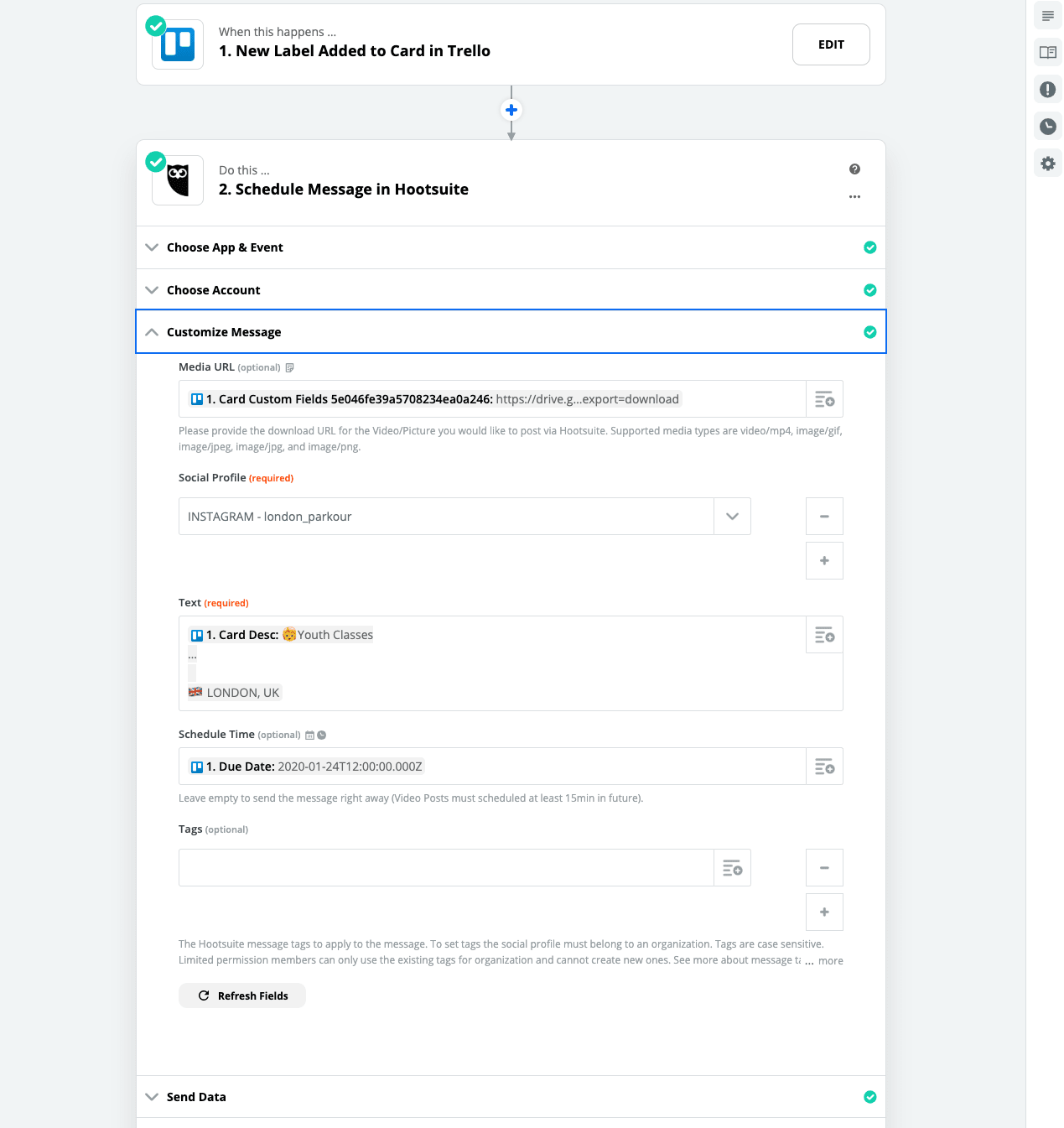 Choose the account you've just created on Hootsuite and then move on to 'Customise Message'. (Sorry, I'm British 🇬🇧 and we write things with the Queen's English... There's no 'Z' in customise. Sorry, not sorry, American readers. 😉)
OK, So here's where we map all the fields together.
The Trello Card custom-field we called 'Video URL' will be mapped to the Media URL in Hootsuite.
The Social Profile is the Instagram one you want to use in Hootsuite.
The Trello card description will now be used at the text of the post.
Finally I have the Trello card scheduled date as the due date on Hootsuite. This means Hootsuite will put it into it's calendar and only post it when it's ready.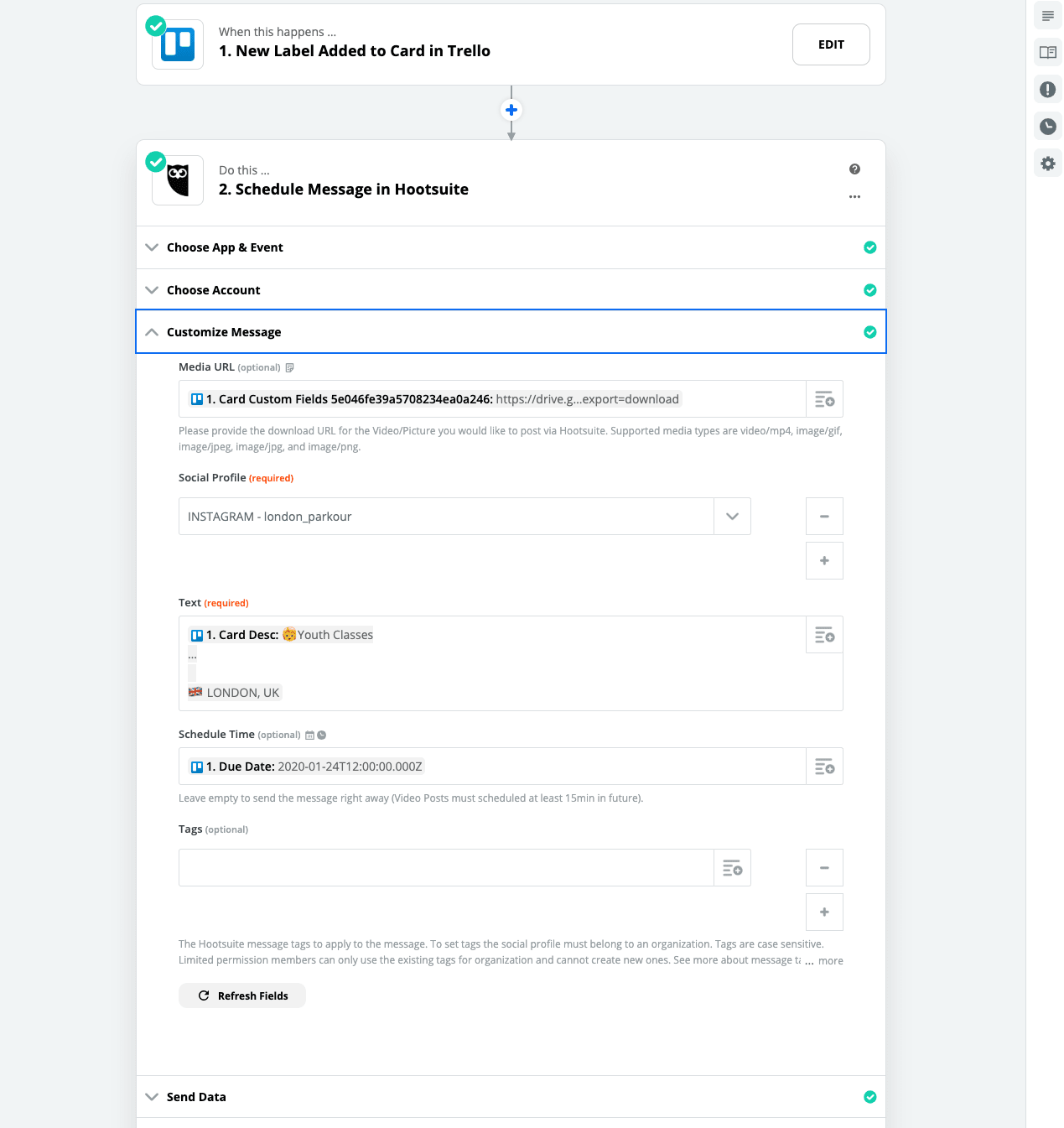 Refresh and Send data!
Hopefully you'll see a new post in Hootsuite for the correct scheduled date!
Caveats, Gotchas and sidenotes.
The video format you use will depend on which mobile phone you use to post to instagram. Apple will only use .mov files and not .mp4 natively.
There are limits on Zapier.com. As time of writing, this is 200 zap triggers per month.
There are limits on Hootsuite.com. This is 30 scheduled posts per month.
All the connectivity can take a little bit of massaging. Make sure you test everything with dummy data and potentially a test Instagram account.
If you have a business or professional instagram account, Hootsuite can directly post to the account without any further interaction. However, I've chosen to keep my personal account for the londonparkour.com instagram account @london_parkour. This means I use the Hootsuite mobile app and manually get alerted of when to post my scheduled post. I find this better with interaction and allows me to post to multiple accounts at the same time.